VietFarm Award 2019
VietFarm Award – Pride of Viet Nam 2019 is made public in mid-June 2019 as a small grant to support small production units, cooperative groups and small households to get improved in production skills and business capacity, learning from doing and experience exchange, encouraging good competition and support to intrude in export markets.
When it was first held in 2018, VietFarm Award had been participated by 200 individuals and units from 63 provinces and cities across the country in categories of industrial trees | Fruit tree | Vegetables. Those shortlisted ones have been honored of good agricultural practices; going closer to international markets requirements; improve export opportunities to European and American markets…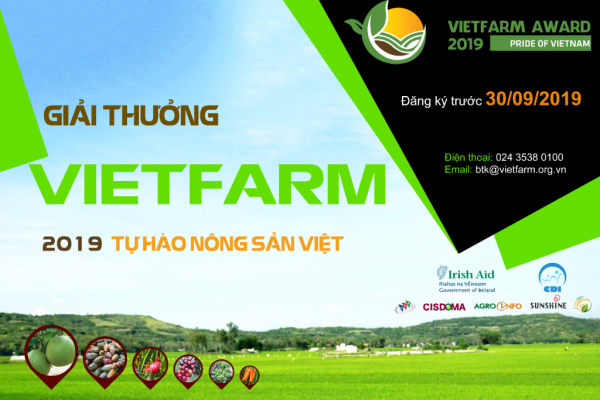 VietFarm Award – Pride of Viet Nam 2019 calls for participartion of nationwide units and farmers in a search and honor of excellent individuals and units who apply innovations in agricultural production. Criteria for VietFarm Award 2019 include:
☑ Clean processing and production
☑ Effective innitiaves and solutions
☑ Apply of hi-tech to improve productivity and quality
☑ SCR and transparent bussiness
☑ Safety in working conditions
☑ Practice of fairtrade
🔹🔹🔹🔹🔹🔹🔹🔹🔹🔹🔹🔹🔹🔹🔹🔹🔹🔹🔹🔹🔹🔹🔹🔹🔹🔹🔹🔹🔹🔹
VietFarm Award – Pride of Viet Nam 2019 hosted by the Center for Development and Integration (CDI) with following co-organizers (Vietnam Retailers Association (AVR); Information Center for Agriculture and Rural Development (AGROINFO); CISDOMA, Anh Duong Consulting – Investment – Trading Co., Ltd. (Sunshine Holdings) and InnoAgro. Other partners include domestic and foreign organizations, associations and enterprises and press agencies. The award is funded by the Irish Development Agency in Viet Nam.
Details on VietFarm Award 2019 can be seen in the link https://vietfarm.org.vn/giai-thuong-vietfarm-2019/
Share: