CDI organizes training on Social Dialogue for Enterprises and Trade Unions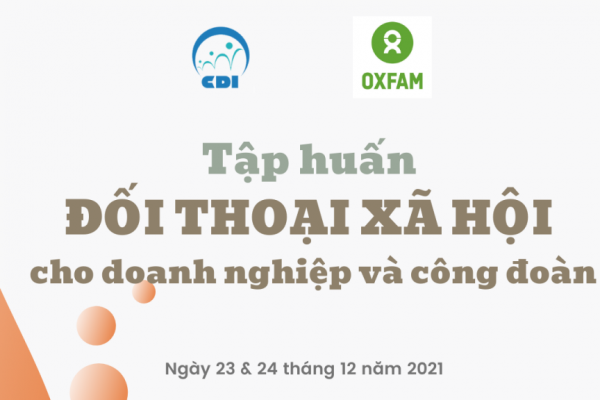 On the morning of December 23 and 24, the Center for Development and Integration (CDI) organized a training session on Social Dialogue for managers, human resources officers and grassroots trade union officials of electronics and textiles enterprises in Bac Ninh and Hai Duong.
At the training session, Dr. Do Quynh Chi – Director of the ERC Research Center on Labor Relations analyzed the role of Social Dialogue in conducting a human rights review and accessing remedial measures, characteristics of Vietnamese workers in dialogue. The participants also listened to Dr. Quynh Chi's introduction about the social dialogue tower.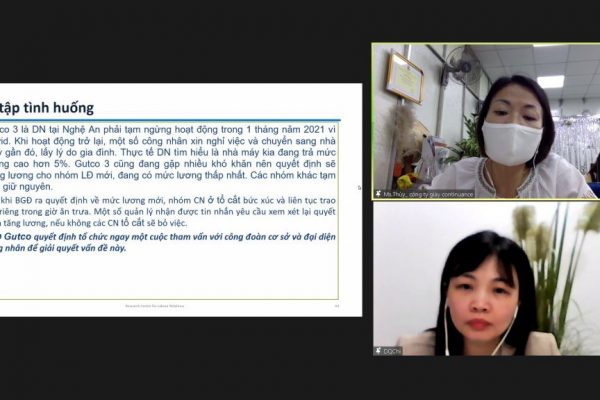 During each training session, participants were not only updated with useful information through discussions but also had group discussions and openly shared internal issues of the business both in the normal period and during covid to find solutions together.
The training course also helped trade union officials, human resources and managers of enterprises improve their skills in receiving and resolving complaints, negotiating skills, and resolving labor disputes.
The diverse and practical case exercises also showed that effective social dialogue is the right tool to contribute to improving working conditions and building harmonious, stable, and progressive labor relations. 
Training on Social Dialogue is an activity within the framework of the project "Promoting the rights and voices of migrant workers, especially female workers, towards ensuring social security and good working conditions in industrial areas in Bac Ninh and Hai Duong provinces", implemented by CDI since 2017 with the support of OXFAM in Vietnam.
The project's goals are:
Migrant workers working in electronics and textile sectors are better organized to protect their rights and interests;
Migrant workers, especially female workers, and social organizations are empowered to exert influence in the consultation process on amending and implementing the Labor Law and wage policy;
The private sector and other stakeholders strengthen their support for migrant workers so that they can have better working conditions, especially in improving occupational safety and health issues;
Electronics and Textile is one of the labor intensive industries, in which there are mainly female workers. Most employees work in production stages that do not bring much added value with inadequate working conditions, such as long working hours, high labor rotation, and the dialogue organization as well as the mechanism for receiving and handling complaints for employees are still very different among enterprises.
A survey of 139 enterprises by the Ministry of Labour, Invalids and Social Affairs (LOLISA) in 2016 showed that 30% of surveyed enterprises held monthly dialogues; 52% had quarterly conversations; 4% held dialogues every six months; and 14% have dialogue once a year (MOLISA 2018). However, according to the Ministry of Labour, Invalids and Social Affairs, the quality of these workplace dialogues has not met "expectations" because many businesses carried out formal dialogues with little participation of employees. According to some recent empirical studies on social dialogue in the manufacturing sector, substantive dialogue and effective complaint handling were rare (Do 2017). One of the main reasons is the ability of grassroots trade unions to represent workers in dialogue with management as well as to deal with employees' complaints. Another reason is the lack of effective channels to communicate with management levels and resolve complaints in the enterprise. Enterprises often let team leaders, supervisors communicate with employees and handle their complaints without providing an appropriate dialogue system (Fair Wear Organization, Report on Labor Relations, 2019).
On August 1, 2020, the Free Trade Agreement between Vietnam and the European Union (EVFTA) officially took effect, opening up more good opportunities for businesses and suppliers in the supply chain in Vietnam to have more access to the European market. Besides, Vietnamese enterprises also need to better comply with commitments on environmental and labor issues, especially international labor standards of the International Labor Organization (ILO). In the process of achieving these commitments, social dialogue is considered as a basic and effective tool. But what are the components of social dialogue in enterprises, and how it works to be effective specifically are not what all businesses fully understand. 
CDI Vietnam.
Share: